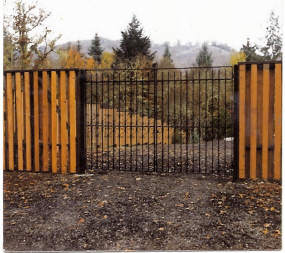 Pacific Northwest Fence Co. has been serving Roseburg and Douglas County since 1982, and offers a complete line of fence products and services.
CCB#176431
Pacific Northwest Fence Co. offers a variety of fences and services:
Chain link is a very economical fence and is known for its strength and durability. Homes and business have been using galvanized chain link for its protection, security, to enclose animals, and to break up property lines for years. Plus its virtually maintenance-free. Comes in a variety of heights and gauges for both home and business. For privacy, a variety of colored slats are offered or chain link with slats built in. Slats go into any chain link fence easily to add that much needed privacy.
There are many design opportunities that wood provides that are both functional and beautiful. Solid panel wood fence provide a privacy barrier between properties lines. There are many styles of picket fence to choose from and all depends on its use: privacy, protection, and boarders. Wood can be customized to your specific taste.
Add beauty and elegance to any property. Iron fences provide endless potential for designs. Iron is a strong, maintenance-free fence that looks great and adds value to any property. All our iron fences come powder coated to provide a long lasting finish that will stand up to the elements for years. Also comes in a variety of colors and heights.

Vinyl fences offers a new and sophisticated look to any property. Vinyl fence offers as many possibilities as a wood fence but without the downfall of wood. Vinyl will never wrap, rot, splinter, mold, rust and it never has to be painted and is virtually maintenance-free. Comes in a variety of heights and styles: privacy, lattice top, and the always popular residential picket fence. Further customize your fence with a variety of caps to choose from.
Vinyl coated chain link gives you all the strength and durability of a traditional chain link without the commercial look. The wire can come in a variety of colors: gray, white, black, brown, and green so it can be tailored to match your house.
Woven wire has been used for years by ranchers and farmers to keep life stock in. Affordable to put long runs up around property. Add barb wire and/or electric wire for extra security. The 6' tall woven wire goes great for keeping deer out of your garden and orchard. Easy to replace and lasts for years.
Kennels are a great way to keep your pets and gardens free from critters out and your pets in. Kennels come in all sizes for whatever the need is. Kennels come in easily assemble panels for the do it yourself.
Automatic gates and controls offer security and convenience. Never again will you have to get out your car in the rain to open your gate. We build all our gates custom to the job in our shop. Gates range from the simple to the extravagant. Pick from a modest chain link gate, open by key pad to a custom decorative iron gate that opens by transmitter, key pad, and has timed open and close, with safety loops to anything in between.
Our decorative iron handrails adds style and safety to any home or business.
All gates and handrails are built custom for the job in our fabrication shop.